Professor Sir Mark
Welland
Master, St Catharine's College; Professor of Nanotechnology, Head of the Nanoscience Centre, Deputy Vice-Chancellor, Special Adviser to the Vice-Chancellor on China, and Director of the Maxwell Centre, University of Cambridge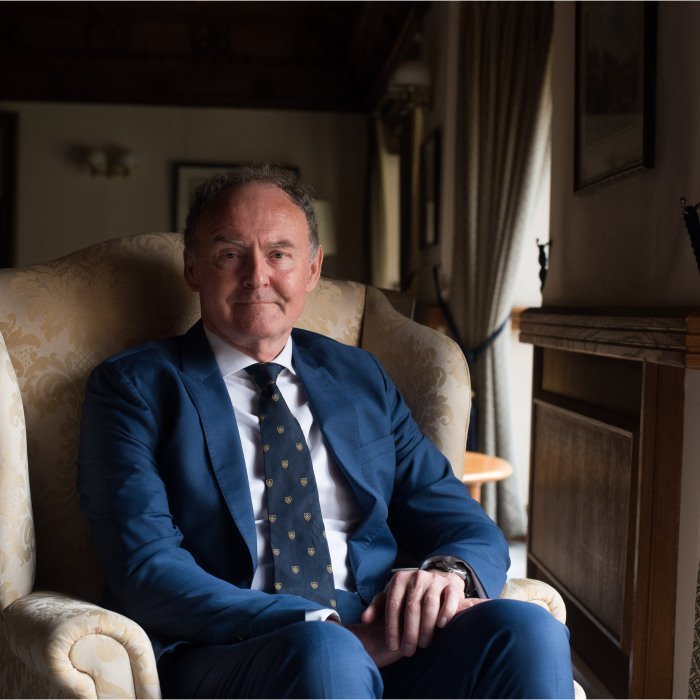 About
Professor Sir Mark Welland started his career in nanoscience and nanotechnology at IBM Research Laboratories, Yorktown Heights, USA, where he was part of the team that developed one of the first scanning tunnelling microscopes. In 1985, appointed to a Lectureship in Electrical Engineering at the University of Cambridge, he set up the first tunnelling microscopy group in the UK and in 1991 he began the nanoscience research group. Sir Mark is currently Professor of Nanotechnology researching into a broad range of both fundamental and applied problems. These include protein mis-folding problems related to human diseases such as Alzheimer's, nanostructured materials for high efficiency low-cost solar cells, biologically inspired nanomaterials for green technologies and nanoelectronics for future generation communications and sensing.
He has given a number of prestigious lectures that include the Turing Lecture, IEE and British Computing Society, 2002; the Sterling Lecturer, an Annual Appointment made by the Sterling group of Universities, 2003; the Annual Materials Research Society of India Lecture, Mumbai, India, 2006; and the Max Planck Society Lecture 2007, MPI, Stuttgart, Germany.
From April 2008 until May 2012, Sir Mark was Chief Scientific Adviser to the UK Government Ministry of Defence. In April 2011, in recognition of Sir Mark's contributions he was presented with the US Secretary of Defense's Award for Exceptional Public Service. Also in April 2011, in recognition of his outstanding leadership, wise counsel and his significant contribution to the interests of the United Kingdom and the United States, he received the National Nuclear Security Administration (NNSA) Gold Medal for Distinguished Service. The NNSA Gold Medal is the highest medal awarded by the NNSA.
Sir Mark was elected a Fellow of the Royal Society, a Fellow of the Royal Academy of Engineering, and a Fellow of the Institute of Physics in 2002, a Foreign Fellow of the National Academy of Sciences India in 2008 and a Foreign Member of the Danish Academy of Sciences in 2010. Sir Mark was awarded a Knighthood in the Queen's Birthday Honours list in 2011.
Sir Mark was Head of Electrical Engineering from October 2015 to September 2018, has been Head of the Nanoscience Centre since 2012, has been Master of St Catharine's College since October 2016, was elected a Deputy Vice-Chancellor October 2018 and is Special Adviser to the Vice-Chancellor on China. On 1 January 2019 he became the Director of the Maxwell Centre.
Back to speakers